Drywood Termites
A Special Case of Drywood Termites in Chattanooga, TN
A longtime pest control industry friend, Wayne Holden called to ask if our company performs drywood termite treatments. His customer, Burns Tobacconist in downtown Chattanooga, had a problem with drywood termites damaging a wooden locker in their private member Davidoff Lounge. This species of termite is not something that a pest management professional in our service area of southeast Tennessee and northwest Georgia would encounter, in fact, it is extremely rare in our area.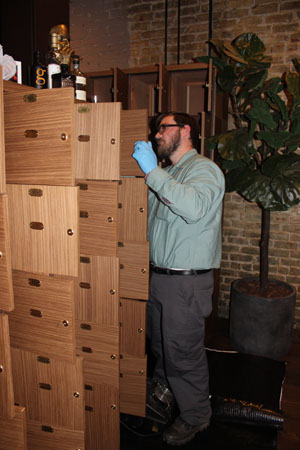 Technician inspects lockers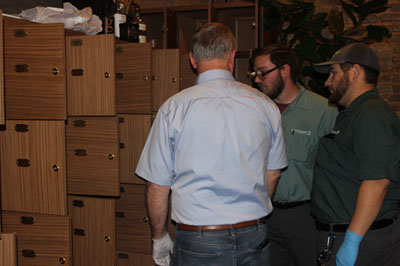 Treatment instructions are reviewed by technicians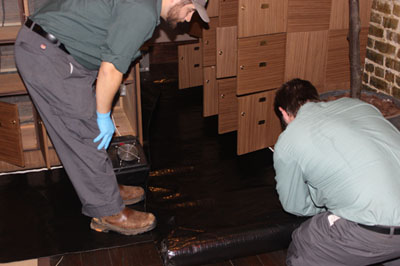 Technicians prepare for treatment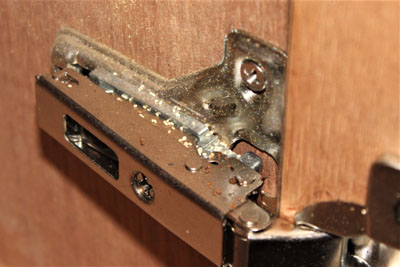 Fecal pellets on locker door hinge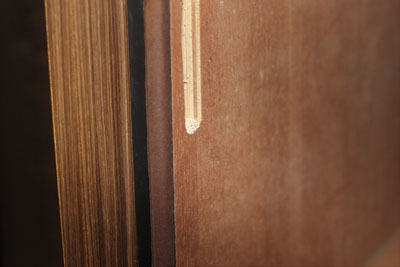 Drywood termite damage with fecal pellet evidence
Drywood (Kalotermitidae) termites are usually found along the coasts of southeastern US and California, Hawaii in the US as well as Central and South America and only occur in our area when they are shipped in, either in a piece of furniture or other wooden structures. In my forty plus years in the industry, I have had limited exposure to this species of termite, and I agreed to investigate the problem and develop a treatment plan.
Unlike our native subterranean termites that live in soil and maintain a connection to soil and the moisture it provides to survive, drywood termites do not need the connection to the soil. Drywood termites are larger than our native termites and live their entire life inside wood and they obtain moisture from the wood they consume.
John Harris, the manager of Burns Tobacconist showed us the three sets of wooden lockers that serve as both humidors and storage lockers for the club members personal cigars. Behind one of the units, I discovered piles of what looked at first glance like sawdust.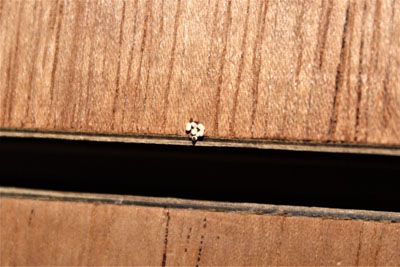 Fecal pellets aid in termite identification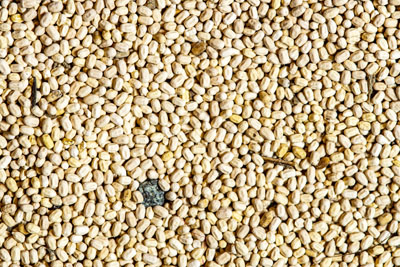 Close-up of fecal pellets
We then opened the individual lockers and found the drywood termites had infested several lockers. After examining the piles of "sawdust," I quickly realized they were fecal pellets from drywood termites (drywood termite fecal pellets are hardened from the lack of moisture in their diet and are six- sided in shape).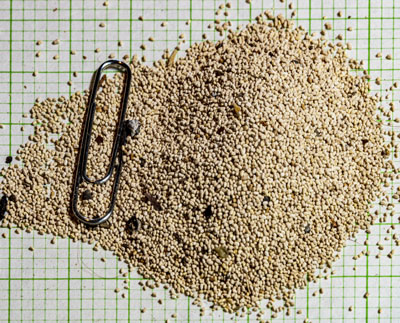 Macro view of pellets with standard paperclip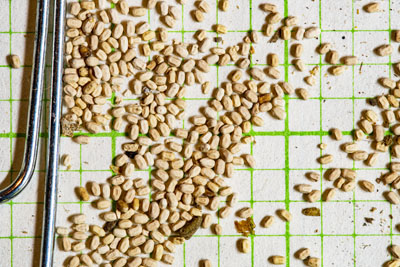 6-sided fecal pellets on graph paper with a
paper clip for size comparison
Macro photo of pellets with a standard office paper clip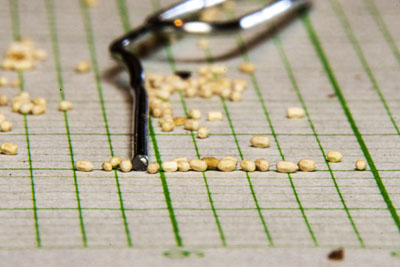 Compare the size of pellets with the end of an
opened standard paper clip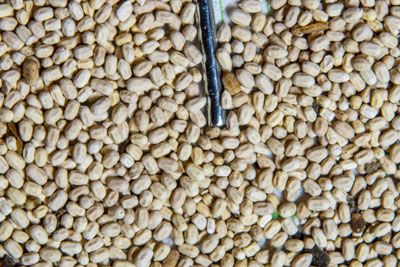 Macro photo of pellets and side of standard paper clip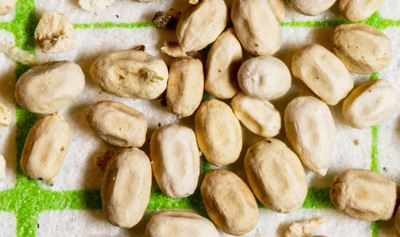 Magnified macro photo of pellets in detail -
note the flattened sides
When we examined all the lockers, we discovered exit holes made by the termites and found live drywood termites that came out and posed for the camera!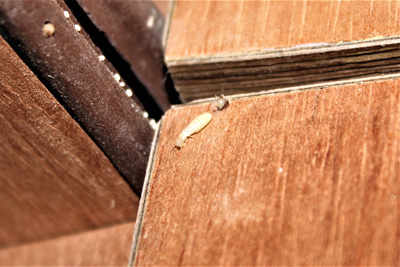 Worker drywood termite and another emerging from
exit hole, and evidence of fecal pellets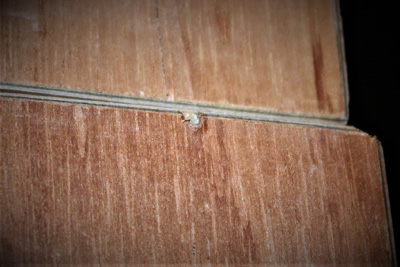 A drywood termite worker emerges from an exit hole
Some of the cigars stored in these lockers were imported from Central American countries and it is reasonable to believe that the termites came to Chattanooga in the wood packaging of the cigars.
We determined the most effective and safest way to treat the inside of these lockers was to have Enviroguard technicians using clean paint brushes apply Bora-Care® (Disodium Octoborate Tetrahydrate) at the mixing ratio of 1-to-1. The outside of each locker door had a laminate finish and therefore could not be treated. Bora-Care® is a wood treatment with patented glycol that penetrants wood to kill termites and other wood destroying organisms including drywood termites while providing long term residual protection from drywood termites.
Had these termites not been discovered, the infestation could have spread to the actual structure of the building causing severe and expensive damage. Enviroguard recommended that the employees at Burns Tobacconist should inspect future shipments of goods from tropical areas to prevent future infestations of their wooden lockers.
Enviroguard customers should be aware that non-native pests can appear seemingly out of nowhere, but if they see an unusual pest issue, please contact Enviroguard at 706-965-9078. Left unchecked, such pest could become a major infestation in our area.
Active termites, exit holes, piles of fecal pellets and application of the borate treatment by Enviroguard technicians were photographed by Jill Brindle, Enviroguard Operations Manager, technician Jordan Smith and owner Lee Tubbs.
Macro photographs of fecal pellets showing the actual size of the pellets (0.8-0.9mm long, 0.4-0.5mm wide and 0.3-0.4mm high) were made by Dalton, GA based Vice Chair of the Carpet Capital Camera Club, George Spence. For size comparison George used a standard size paper clip and graph paper with a 2 mm grid in the photographs.
Shipping containers from outside the US can be a source of new pest populations along with imported goods, especially furniture and other wooden items. The first time I encountered another non-native termite species, Formosan termites, was in 1985, when they arrived on shipping pallets with imported rubber gloves in cardboard boxes from Taiwan. Other invasive "pests" arrive on cruise ships, cargo ships, planes, trains, other intermodal transportation, nursery plant stock, and are encountered in hotels and other travel.