Realtors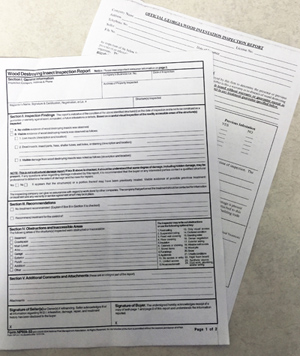 Realtor Services
Enviroguard values our Realtor customers. We know you need fast and accurate inspections. We immediately issue all official Wood Infestation Reports for quick closings.
Because we are licensed in both Tennessee and Georgia, we can provide all your area closing and inspection needs.
Professional Inspections:
Same day inspections
Prompt and timely inspections
From expert pest management professionals
Licensed in both Tennessee and Georgia
Second Opinion Inspections:
Should you need confirmation or a second opinion, we offer same day inspections
Photo or video documentation, written verification, and explanations provided as needed
Rental Property Inspections:
We can photograph or videotape the interior and exterior of rental property at the time of our scheduled pest control services.
Expert Identification of:
Live insects and their description and location
Dead insects
Shelter tubes, exit holes and staining
Visible damage from wood-destroying insects
Conducive conditions that have led to or might lead to infestations
Presence of subterranean termites
For Georgia State Requirements - Wood-destroying organisms including wood borers, powder post beetles, wood decay fungus (not molds and mildews) and drywood termites
For Tennessee State Requirements - Wood-destroying insects including subterranean termites, powder-post beetles, carpenter ants, carpenter bees or other wood-boring insects
Warranty
90 day warranty indicating the presence (or absence) of termites
An extended, one-year warranty available for $150
Prompt and Accurate Paperwork
For Georgia, you will receive the

Official Georgia Wood Infestation Inspection Report
Any Exception Form II of inaccessible areas (if any)

For Tennessee, you will receive the

Wood Destroying Insect Inspection Report – FORM NPMA-33
Featuring:
Easy to read computer-generated reports
Detailed, complete diagram of the inspected property listing areas of conducive conditions and infestations (if any) and other areas of concern
Saved into our cloud-based system for future access
Courtesy copies sent to all clients, other agents, title companies, buyers, sellers, closing attorneys
Reports can be hand delivered, picked-up at our Ringgold, GA office, faxed, e-mailed as attachments, or sent by IM/text
Photos of damage, pest activity, or other problems that are conducive to pest activity
Educational Programs for your Office and Staff
Our management staff is available to speak to your realtor's group or your company regarding pest control and termite topics as well as provide a variety of continuing education programs. Call and let us know how we can help. Our owner, Lee A. Tubbs, is also a former realtor.