Disinfection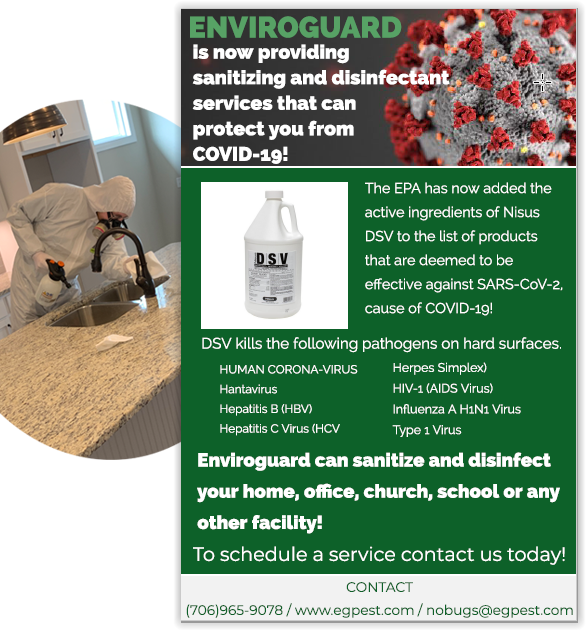 | | | |
| --- | --- | --- |
| Enviroguard Service Professionals prepare for the disinfection treatment by wearing personal protective equipment, including shoe covers, microporous disposable coveralls with a hood as a barrier, eye protection, and cartridge respirators. | Our team is ready to begin the disinfection, sanitation, and viricide (DSV) services. In these photos, the team is sanitizing a home before occupancy by new owners. The DSV treatment assures homes and offices are thoroughly disinfected before occupancy, re-entry, or between customers and clients. | Technicians follow extra precautions with all high-touch points in the home or office. DSV products remain on the surface for ten minutes before they are wiped clean. |
Worried about viruses in your home or workplace?
We offer Disinfectant and Sanitizing Treatments as a stand-alone service.
Enviroguard is proud to offer you disinfecting and sanitation treatments using EPA-approved products for the elimination of viruses and as an effective treatment against both the current coronavirus (VOCID-19) and bacterial infections.
We offer disinfecting services using a specialized sanitizer and virucide whose four active ingredients can kill SARS-CoV-2 virus, the cause of the COVID-19 Coronavirus. Viruses can survive in droplets transmitted by sneezing or coughing for three hours, live on cardboard for a day, and survive on plastic or stainless for three days. Our treatment will kill these viruses and bacterial providing you immediate protection and sanitation.
We use NISUS DSV™ Disinfectant, Sanitizer, Virucide in our disinfecting and sanitation treatment. This EPA-approved chemical s a concentrated disinfectant, cleaner, mildewstat, fungicide and sanitizer and kills a broad spectrum of viruses, bacteria and fungi. This formidable product is labeled to kill Hantavirus, E. Coli, Hepatitis B and C, Avian flu, staph, strep, SARS-CoV-2 (the virus that causes COVID-19) and many other viruses and bacteria leaving you with a sanitized and disinfected home or office.
Enviroguard's professional treatment with this broad-spectrum disinfectant is designed to sanitize inanimate environmental surfaces including floors, walls, structures, ventilation and other equipment. We sanitize your home or workplace in a short period of time achieving maximum effectiveness and minimal downtime for your business. Using an approved checklist, we ensure your key contact surfaces are disinfected. We provide pre-treatment instructions, follow a treatment protocol ensuring maximum coverage of high contact surfaces, provide postings, and review post-treatment instructions. Most properties can be re-entered after four hours of our comprehensive treatment. Call us today to schedule at 706-965-9078.
| | | |
| --- | --- | --- |
| Countertops, faucets, and all handles receive extra care, and technicians follow a thorough checklist of steps to ensure complete disinfection protocols. | A technician applies Disinfectant Sanitizer Virucide (DSV) with an electro micro-generator to hard surfaces. | The Enviroguard team of service professionals review the completed treatment. |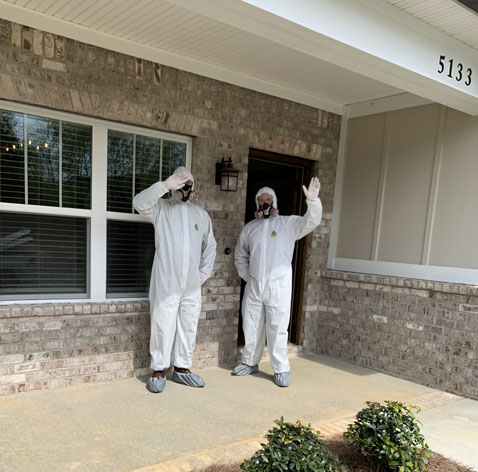 Technicians signal the completed service and will post signs
at all entrances with re-entry instructions. The home or office
can be re-occupied after a four-hour drying/sanitation time has elapsed.